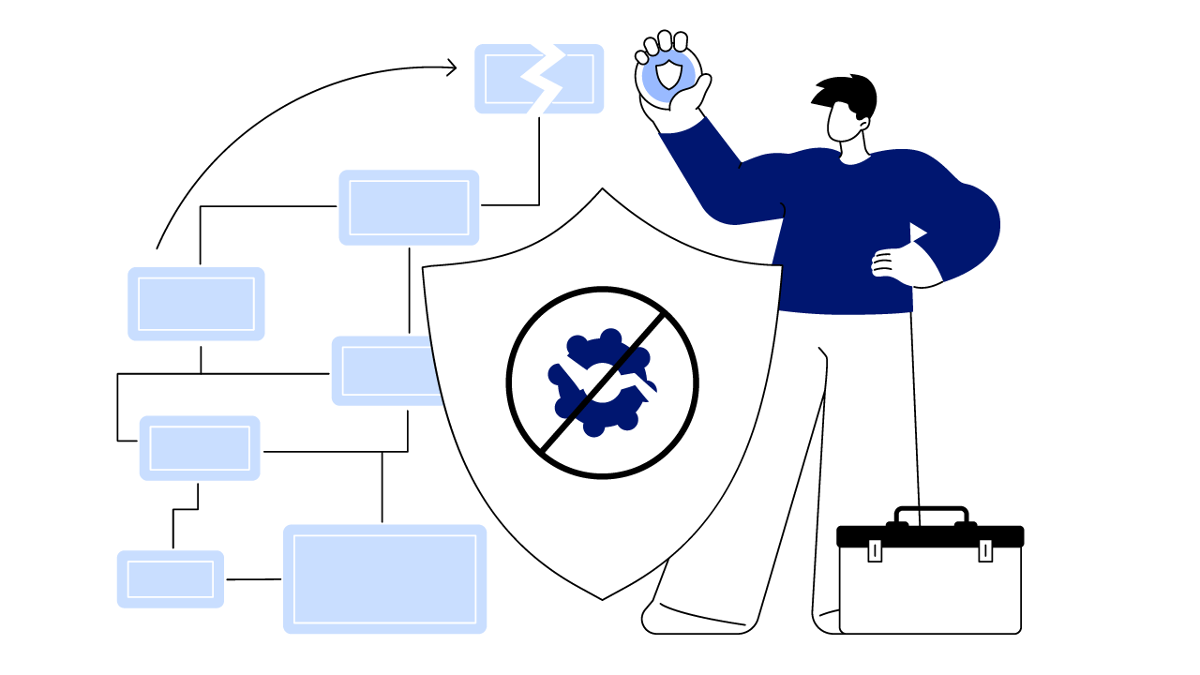 A resilient business is one that can survive and even thrive in the face of adversity. That's why having a back up & recovery plan is so important. At efex, we call it Business Resilience - a comprehensive strategy for safeguarding your company's data and systems in the event of a disaster.
If you think you don't need one, think again.
Imagine without warning you can't access your confidential client data and business systems, and you don't know why. You'll need to answer these questions if you want to make any headway to access it again:
How did you lose access?
Has your network been hacked?
Was it a hardware failure?
Were you impacted by a natural disaster?
Did an employee accidentally delete important files?
How much data have you lost? An hour, a day, a week or a month's worth? Maybe even more?

What's the scope of the loss? Just an email? A file folder? An entire CRM? Your entire network?

What aspect of the business does it impact? Is the loss confined to a minor part of your operations or does it impact mission-critical systems?

What will it cost in time and resources to recover?
What's the cost to your business if you can't operate while the systems and data are recovered?
What if it can't be recovered at all?
Do you have the right resources available internally or will you need external help?
What's your data recovery process?
Do you have a process for small scale losses, e.g. a single file recovery, and a different process for larger business interruptions?
Do you have IT support that can react quickly help if you get stuck?
A three-point approach to business resilience
In the world of business resilience, there are three things we focus on with our customers when we build a plan that gets them back to business with minimal or no disruption after an incident.
Time – The point in time you can restore to (e.g. the last back up was 4 hours ago). In technical terms this is called the recovery point objective (RPO).
Timing – This quantifies how fast you can perform a restore (e.g. the office flooded, and it will take 36 hours for us to migrate to alternative IT hardware, connections and location). In tech-speak this is called recovery time objective (RTO).
Types –The different scenarios for data loss or corruption that the recovery plan should include. For example, if you lost an email, you want to be able to recover that email by going back to a historical email from a specific point in time: you'll need to consider how far back that should be.
In a nutshell, think about how often backups should be made, how far back in time the recovery process should be able to go to restore lost data and how long you can survive without access to the data and/or systems.
Back up is a generic term that covers a huge range of options
Without getting too technical, a "back up machine" is not necessarily going to do what you need straight out of the box. Different devices and cloud solutions on the market have different configurations. You may think you've backed up everything, and don't realise the device only captures data not systems, or only backs up every 6 hours while you need restored data to be no older than 4 hours old. Make sure you dig into a bit of detail on this when you're weighing up options.
What type of backup should you invest in?
With many different solutions available, choosing the right one for your business can be daunting. The most popular type are cloud-based solutions because they offer flexibility, scalability, and security. Fortunately, they're also very affordable.
We created Business Resilience Essentials & Business Resilience Premium to meet the backup and recovery needs for SMB's. They're affordable and scalable options for businesses that need a no-fuss, back-to-business ASAP solution if disaster strikes.